The Cube Project: Challenging Assumptions About Terroir and Technique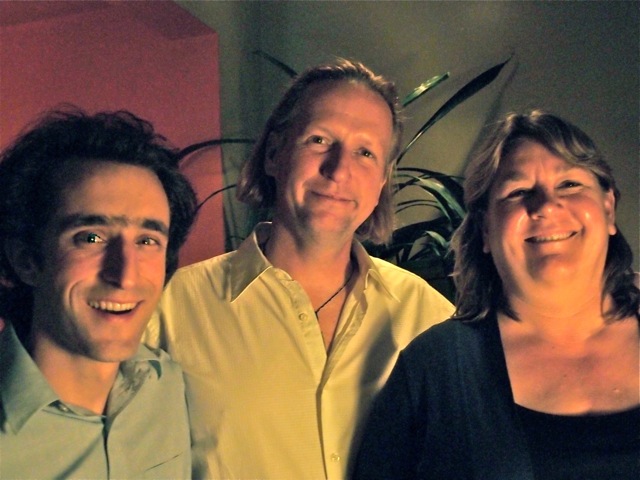 Pictured at the Cube Project's wine dinner, held May 1 at Roy's in San Francisco, are (l-r) winemakers Andrew Brooks, Thomas Houseman and Leslie Renaud, who conceived the project in 2010.
Winemaker dinners can be fun, educational, an opportunity to meet other wine lovers and make new friends, and probably a hundred other things depending on one's mood, expectations and appetite. The Cube Project dinner at Roy's restaurant in San Francisco on May 1, 2013, was specifically designed to "challenge your assumptions about terroir and technique." To explore these long-standing hypotheses – that the vineyard makes the wine or that the winemaker's style overshadows the terroir/vineyard expression – a group of enterprising winemakers designed an experiment to test this.
The Cube Project grew out of these winemakers' attendance at Steamboat, a Pinot Noir symposium held at a fishing resort on Oregon's Umpqua River. Steamboat has a long history; it was started in 1980 to "improve the breed." At Steamboat, winemakers get to take a break from their routine and sit down for three full days of tasting wines, talking about winemaking and grape growing, and simply relaxing with good food and excellent wines in a beautiful rural setting.
Winemakers Behind the Project
The Cube Project was conceived amidst this idyllic setting in 2010 by winemaker Thomas Houseman of Anne Amie Vineyards in Carlton, Oregon, Andrew Brooks of Bouchaine Vineyards in Napa's Carneros region, and Leslie Mead Renaud from Lincourt Vineyards in Solvang, California.
Each participant chose a single block of Pommard Pinot Noir (Pommard was chosen in order to help control variables between the sites) and sent his two project colleagues the same uniform grapes to turn into wine. The wines were produced and bottled at each winery with the plan to taste them over the years with consumers and industry professionals in an effort to answer the question: Does terroir show through, and to what degree does the winemaking influence the wine? The project has run for three vintages, 2010 through 2012. Hence the name Cube for three to the third power: 3³.
How Choices Influence Outcome
The fact that this project was conceived and carried out by winemakers who specialize in producing Pinot Noir is perhaps no accident. No grape is more susceptible to the influence of terroir, the precise piece of ground where it is grown; the soil, which is a reflection over geologic time of the region's climate; and the winemaker's hand. Both elements, terroir and winemaking, influence the final outcome. Separating and measuring these parameters are not a simple task. The Cube Project, after three vintages, is still searching for answers.
Perhaps the most important aspect of a wine's quality and overall balance can be attributable to the grapes' ripeness when harvested. Each winemaker in the project had to trust his colleagues' judgment in assessing this single aspect of the grapes he was to receive. Other factors that winemakers can control in the vineyard, such as cropping levels, canopy management, irrigation and soil amendments, were, for all intents and purposes, as equal as could be, given that six tons of grapes from a given block were to be harvested on a given day and evenly divided among the participants. Thus, as far as was humanly possible, every winemaker in The Cube Project experiment started with the same fruit.
However, given the challenges of shipping grapes hundreds of miles by truck, it could be argued that each participant's grapes – while the same to start with at the time of harvest – may have changed after a 14-hour ride by refrigerated truck, the time it takes to get from the Santa Rita Hills in Santa Barbara, California, to Carleton, Oregon.
The techniques or protocols that winemakers follow to craft grapes into wine play a large role in shaping the final wine. All the decisions that are made along the path from grapes to wine have distinctive and often measurable effects on the finished wine. The wine's quality and flavor is effected by the method of destemming and crushing (or not crushing or destemming), acid or water and nutrient additions, yeast addition, size of fermenter, temperature of fermentation, and maceration time. Length of aging and choice of barrels, fining and/or filtering and even the choice of screw cap or cork closure – these choices and others I haven't mentioned – will have an effect on the wine and its aging profile.

How Winemakers & Vineyards Compared
The host winery for this San Francisco tasting was Bouchaine. They worked with the restaurant to coordinate a three-course menu for the nine wines from the 2010 vintage. Chef Nathan Payo served beautifully fresh food and each dish incorporated flavor components that managed to complement the wines. The only limitation in this format was the fact that each three-wine vineyard flight had to be dumped after each course to make way for the next vineyard flight of three and its accompanying course.

It might have been more informative to taste all nine wines together, either randomly or by vineyard or producer, but also more work and less fun. It is also rather impractical for most restaurants to provide over 300 identical glasses in order that each taster have nine glasses at his setting, much less enough room to accommodate this many stems along with plates and utensils and the essential dump buckets. Under these limiting conditions, how did the winemakers and the vineyards compare at the Roy's tasting on May 1, 2013?
My overall impression was that all the wines were of very high quality. Obviously, these winemakers knew their vineyard sources well and chose a superior block of grapes to conduct this experiment with. And 2010 proved to be an extraordinarily good vintage. But, given that we did not taste blind, it was difficult, if not impossible, to not begin to focus on winemaking influence in the differences between the three wines, rather than vineyard similarity.
I found that Leslie Renaud's wines possessed the most elegance. They always seemed right, not too much tannin/acid, just enough to broaden the palate and lengthen the finish and make the wine a fine partner with Chef Payo's food. Thomas Houseman from Anne Amie, accustomed as he is to working with Oregon grapes, which almost always have lower sugar and higher acidity due to the region's cooler climate, emphasized these aspects in his three wines. Longer cold soak, a full week in every case, and extended post-fermentation maceration gave his wines a decidedly pronounced tannic edge. My dinner companion preferred the Anne Amie Vineyard, accustomed as he is to European continental wines in preference to California wines.
The Bouchaine wines seemed to lead in an opulent fruit-forward direction, with lots of aromatic spice from oak. The Bouchaine vineyard fruit was also perhaps the most voluptuous with soft, black cherry fruit and cola flavors predominant. However, I also felt that each winemaker did his or her best work with his or her own grapes. Could this be just familiarity and experience or simply fresher fruit, with little lag time between harvest and processing?
Winemaker Leslie Renaud expressed a wish that we could have tasted all nine wines together. In this way, the similarities and differences would undoubtedly be more pronounced. It is extremely difficult to compare one wine tasted with a fish dish to a second wine tasted with a plate of duck 30 minutes afterwards. And the wines tasted an hour earlier with different foods and now discarded, cannot be easily recalled either. My tasting notes tended to be rather abbreviated. I looked for aromatics and mouthfeel, as color was difficult to ascertain given the restaurant's lighting or lack thereof.
With additional bottle age, more of the vineyard characteristic, terroir, would perhaps be asserted, whereas the fresh fruit qualities tended to dominate in these young wines. Perhaps with more time in the bottle, fruit character will diminish and other aspects of terroir will begin to emerge. I think no firm conclusion could be reached from the Roy's, San Francisco tasting. It would be instructive to try these wines again, all together in a blind tasting, in a single flight of nine wines. Could we then pick out the vineyards from the winemaker's hands?
Perhaps next year such an opportunity will arise. It would also be interesting to taste the full complement of 27 wines produced over the three vintages. Perhaps, then, styles and vineyards would be more apparent. I applaud the dedication, discipline and effort that these winemakers and their wineries put into the Cube Project.

For anyone interested in tasting these wines and forming their own opinion, or simply enjoying some fine Pinots, I encourage you to visit www.anneamie.com, where "The Complete Cube," all nine wines from 2010, can be ordered.