When tastingroom.com announced it was "partnering" with Lot 18 earlier this year, I assumed partnering was just code for shutting down. Tastingroom.com suspended its club service, issued refunds, let staff go and basically threw in the towel. I figured Lot 18 would just liquidate inventory because Lot 18 was in flash wine sales.

Winetasting.com's demise was disappointing because the concept of reformatting large bottles into small ones for commercial distribution was really, really cool. With decades in Silicon Valley doing startups and a background in agriculture, Tim Bucher had the vision and was crazy enough to make it happen. He came up with an idea, raised money, and put a process together: technology for a "total anaerobic sample transfer" of wine in 1.7 ounce bottles that from a sensory standpoint would be a perfect match with the larger vessels from which they came – no small feat. It works with most, but not all wines - I think aromatic whites can be a little tricky.

Bucher deployed pharmaceutical technology working with the company that built the first semi-conductor clean room. I watched with interest. There were many possibilities, including B2B applications for sampling wine.

We thought the little sampler packs would compliment our Wine Business Monthly varietal reviews nicely.

The venture obviously didn't catch on as hoped. I'm not sure why but I did hear winemakers saying they thought the costs of working with tastingroom.com were high.

It turns out that Lot 18 purchased many of tastingroom.com's assets, including the name and the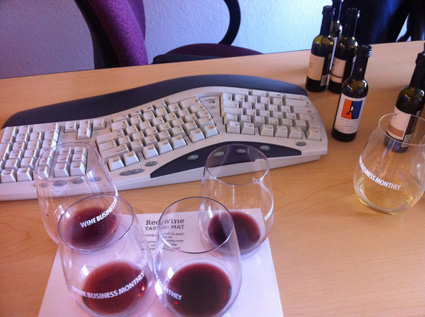 machine that transfers wine into small bottles, which is now operating at a winery in Napa Valley.

Lot 18 has announced that it is using the machine to create a wine club combining the winetasting.com technology with personalization technology.

One of the most frustrating aspects of trying to sell wine online is customers can't taste it before they buy it. In most clubs members receive whatever wines the club deems worthy of sending. With this new club, "Tasting Room" will send consumers a Wine Sampler Kit containing six miniature bottles of wine – two bottles of white and four bottles of red. Members can then log on to TastingRoom.com for instructions on how to taste and rate the wines. Member ratings will allow Tasting Room (Lot 18) to capture nuances of the member's taste and generate a wine preference profile. Profiles include the "Thrill Seeker," "Big Red," the "Adventurer," the "Class Act," the "Diplomat," the "Life of the Party," the "Naturalist," "Philosopher," "Critic," the "Golden Child," and more.

Down the line, consumers will be able to rate bottles they receive – again - so future shipments are geared toward their taste preferences. It's a work in progress but there could be eventually be a scenario where little kits represent different types of tasting experiences that are weaved into the club experience.

Positioning-wise it's designed for a moderately sophisticated consumer interested in knowing more about their palate. Lot 18 CEO Jay Sung told me he's trying to create a club for people who drink wine but may not know much about it. "We're going for what I would call the upper-middle market on wine," he said.

It's interesting to note that Lot 18 is putting a lot of effort into a new club and it says something about the state of flash sales.

"It's no mystery to anyone that's been following the news about Lot 18 that it's been a challenging business to scale from a flash business point of view," Sung said. "That's not unique to wine. I think a lot of the flash players are having a tough time sustaining growth in a flash-only type of business."

"We're continuing to operate our flash business and we think it's an important part of our offering, but it's important to have a number of irons in the fire," Sung said.

"Everything we've been doing over the last six months has been about supporting the flash business, which we'll continue to support, and customers will have the same experience they've always had," Sung said. "But we're also putting energy into what we view as the future growth engine of the business, which is to attract customers to our platform – a club platform, through these sampling kits and personalization of wine."

Speaking of consumer choice in direct to consumer wine shipments – I should point out that the 2013 Wine Business Monthly Silicon Valley Bank Tasting Room Survey showed that wineries who allow their club members to choose their wines receive more revenue per member - $362 annually versus $324 on average for clubs when members aren't offered a choice. Thirty-five percent of wineries said their clubs offer some choice and 87 percent of wineries now have wine clubs. Results are in the May WBM.