Robert Craig Winery's 2009 Howell Mountain Cabernet Sauvignon will be part of the line-up during Lance Cutler's Red Blends Comparative Tasting at WiVi Central Coast in Paso Robles next week. When you join the tasting, you'll find out why Robert Craig says this about his Mountain Sauvignons:
"I love the tremendous depth of concentration and great structure in Mountain Cabernet Sauvignons from the Napa Valley. I don't think you can duplicate them anywhere else."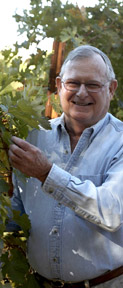 From the winery's website: Robert Craig celebrates three decades as a Napa Valley "mountain man," producing distinctive Cabernet Sauvignons from vineyards in the highest, most remote reaches of the Valley. He has been a pioneer in Napa Valley mountain vineyards and a visionary in creating a new wine style for mountain Cabernets that emphasizes ripe fruit, supple tannins and early balance and integration.
During the 1980s, Bob developed over 300 acres of vineyards on Mt. Veeder and served as general manager of the Hess Collection Winery. Along the way, he spearheaded the campaign to have Mt. Veeder designated as a special appellation district in 1990 and consulted on the Spring Mountain Appellation.
The opportunity to start his own winery in 1992 with three long-time friends was the realization of a long-held dream to hand-craft small quantities of Cabernet Sauvignon from great winegrowing appellations of Napa Valley.
His first Cabernet debuted in 1995. In 2002, the Craig family completed a state-of- the-art winery located at nearly 2300 feet along the summit of Howell Mountain.
Lance Cutler says Robert Craig Winery is solid, very consistent, with good wines and good scores. Passes for the Comparative Wine Tasting on March 20 are only available to seminar attendees, and a separate ticket is required for this event. For more information, please go here.
Of note: Robert Craig Winery was named one of Wine & Spirits "Top 100 Wineries" of the year in 2012, an honor given to those wineries from around the world that have delivered "the best overall performances" in the magazine's tastings throughout the year.
From Robert Parker's Wine Advocate Reviews by Antonio Galloni, Dec. 2011: 2009 Howell Mountain Cabernet Sauvignon. ". . .expressive layers of roasted coffee beans, graphite, scorched earth and tar. It is a massive wine, yet shows remarkable balance and harmony from start to finish. Layers of racy black fruit build towards the muscular, virile finish. Simply put, this is a stunning example of Cabernet Sauvignon from Howell Mountain. The 2009 Howell Mountain is 85% Cabernet Sauvignon, 6% Petit Verdot, 7% Merlot and 2% Malbec. Anticipated maturity: 2019-2029+." Score: 96