WBM contributing editor and winemaker Lance Cutler will lead a special Comparative Tasting of Red Blends at WiVi Central Coast featuring wines from Washington state, Napa Valley and Paso Robles. The tasting has its origins in Wine Business Monthly's popular Varietal Focus series.
When choosing wines from each of the three regions, Lance said he looked for these qualities: first, someone who represented an important iconic wine for the area and the variety; second, a modern, hotshot kind of person doing really well; and third, someone very solid and consistent.
From Washington state, Lance's iconic choice is Andrew Will Winery. The owner/winemaker is Chris Camarda. The wine: Andrew Will 2009 Two Blondes Vineyard Red, a blend of 38% Cabernet Sauvignon with 31% each of Merlot and Cabernet Franc.
Three Paso Robles winemakers will be on the panel. To register and for more information, please go here.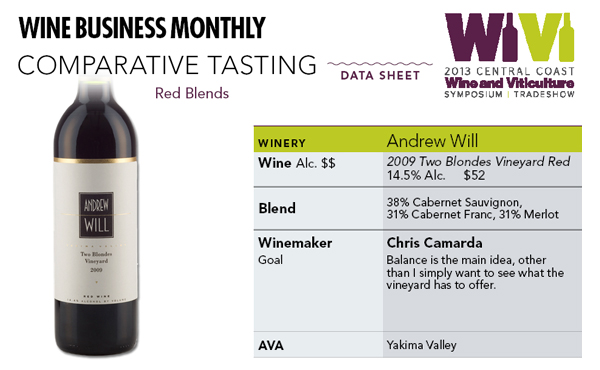 "I am not interested in the similarities of my wines but the differences. The different identities of our vineyards and the identity of Washington state as distinct from California or Bordeaux." Chris Carmada