Two reports released in January 2013 confirm that the imported Rosé wine category continues to see dynamic growth and rising popularity in the United States.
One study measures annual sales of imported Rosé at retail, while the other reports on exports of Rosé from Provence, France – the world's Rosé capital – to the United States. Viewed together, the numbers tell a story of Rosé growth that continues to far outpace the U.S. wine market as a whole.
Provence Rosé Exports Up 41 Percent

Exports of Rosé wines from Provence to the U.S. jumped 41% on volume and 43% on value from November 2011 to November 2012, according to the CIVP/Provence Wine Council and the French customs agency. This comes on top of a 62% jump in volume one year ago. Provence Rosé exports to the U.S. have grown at double-digit rates each year since 2003 (see chart below).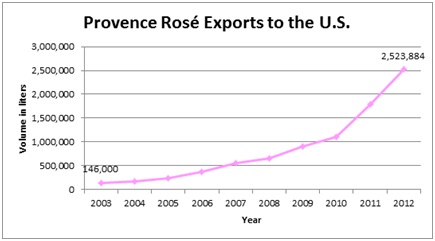 Data sources: CIVP and French customs agency
Imported Rosé Sales Volumes Grow by 28 Percent

The French export data is reinforced by retail sales data released by research firm Nielsen. U.S. retail sales of imported Rosé wines priced at or above $12 a bottle grew by 28% on volume and 23% on dollars in 2012. This is compared to 1.8% on volume and 4.8% on dollars for total U.S. retail table wine sales, giving premium imported Rosés a growth rate more than 15 times that of total table wine sales, on volume.
Premium imported Rosé sales have grown at double-digit rates in the U.S. for at least eight years – as long as Nielsen has been tracking this as a separate segment at retail.
Numbers reflect U.S. retail sales of imported rosé table wines priced $12 and above within the Nielsen food, drug, convenience store, mass merchandiser, and liquor markets for the 52-week period prior. (Data source: Nielsen)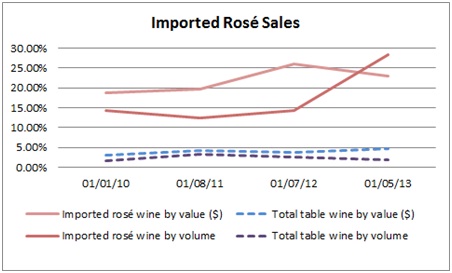 Provence Wine Producers to Visit the U.S.
More than two dozen Provence winemakers will pour their wines for U.S. wine trade and journalists in March as part of the Provence in the City 2013 tasting tour:
New York City – Tuesday, March 5
Chicago – Thursday, March 7
For details, visit www.winesofprovence.com/events.
The Conseil Interprofessionnel des Vins de Provence (CIVP), known in the United States as the Provence Wine Council, is an organization representing more than 600 wine producers and 40 trade companies from the Provence region of France. More information can be found at www.winesofprovence.com or www.facebook.com/winesofprovence or http://twitter.com/winesofprovence.