For the tenth year, Wine Business Monthly has compiled its list of the Top 10 Hot Brands.
The Hot Brands list is our chance to honor wineries that are innovative, curious, adventurous and, of course, delicious. These winemakers can be trailblazers or traditionalists (and are often both), but most of all, these are people who have dedicated themselves to crafting the best wines possible from their unique sites.
We've found ourselves quite taken with each of these brands this year. These are, as we like to say, wines that we'd serve to winemakers.
This year, we are releasing the Top 10 Hot Brands in alphabetical order.
Wine Business Monthly will be serving these wines to winemakers, grape growers and industry members at our annual gathering Bottle Bash during the Unified Wine & Grape Symposium. Tuesday, Jan. 29, 5:00-8:30pm at the Pyramid Alehouse in Sacramento.

Carr Winery
2010 CABERNET FRANC, CENTRAL COAST, CALIFORNIA
Falling in Love With Farming Brings a Vineyard-first Approach
As an art student at the University of Arizona, Carr Winery owner and winemaker Ryan Carr had only a casual interest in the wine industry. His parents, however, had recently moved to Santa Barbara County and his father had become a passionate connoisseur of the local wines. Wanting to pass along his new-found love, he regularly sent Ryan bottles of wine to try to spur an interest in the product. Needless to say, the plan worked.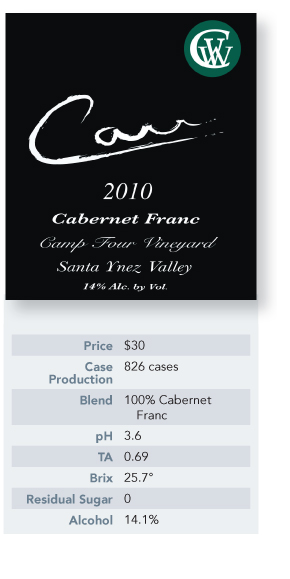 Carr's parents had purchased land in the Santa Ynez Valley for Ryan to manage, in hopes that planting a vineyard would be feasible on the site. "I got a job working with a vineyard manager to see what it took to plant the vineyard, the costs and what it really entailed," said Carr. "I thus discovered that it takes a lot more money than we really expected. So, basically, the project got turned completely upside-down." Though the property was sold, Carr realized that he didn't want to leave either the area or the industry.
"I had fallen in love with the wine industry, the people involved and everything that goes on with it," said Carr. "I had been doing a little bit of graphic design for some of the neighboring wineries and winemakers, but I had just fallen in love with the farming aspect of things. I really enjoyed being outside and away from the computer. So I kept on working for the vineyard manager. I also got in touch with a bunch of winemakers and helped out."
In 1999, one of the vineyards Carr was working with had some excess fruit left on the vine, so they offered the grapes to Carr. "I went out to the vineyard and harvested it in a bunch of buckets," he said. "I took it back to the house and crushed it in the garage in a trash can. Of course, I designed a sweet little label on it, too. Everybody loved it, and it was really spectacular wine."
He'd had some money saved with the aim of starting his own graphic design business. Instead, Carr invested in his own winery, buying 1 1/2 tons of Cabernet Franc and Cabernet Sauvignon, and a half-ton of Pinot Noir.
"That was the beginning of Carr Winery: just over 300 cases and we never looked back. It's very addicting."
In addition to being the owner and winemaker for what is now a 4,000-case brand (along with a burgeoning premium keg wine segment that brings production up to about 6,000 equivalent cases), Carr's primary job is still focused on the vineyard. "What I do for a living is vineyard management," he said. "I take care of 15 different vineyards that are scattered around Santa Barbara County. Different individuals will hire me to plant and manage their vineyards for them. That's where a majority of my fruit is sourced from, vineyards that I take care of and vineyards that I grow."
---
The full story on Carr Winery ~ and all our Hot Brands ~ will be available in our February 2013 issue of Wine Business Monthly. You can find it here starting Feb-1st. Or come by our booth #1324 to get your FREE copy.