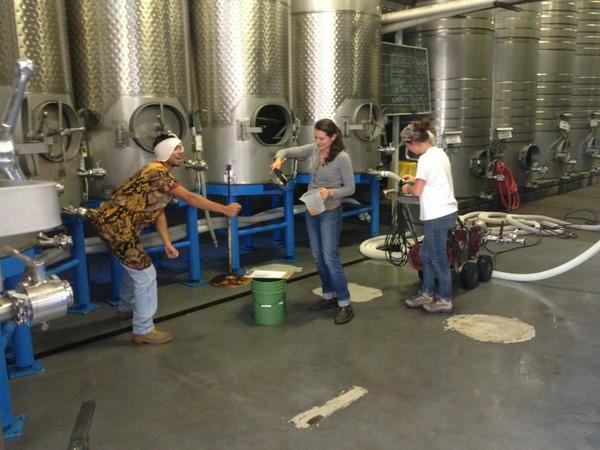 Schramsberg has their harvest dress and Round Pond has the Olympics. It seems interning in the cellars has taken on a new meaning for many interns in wineries across the Napa Valley.
As Wine Spectator reported
Harvest is under way in California. The end-of-the-long-day beers are being chilled, the mechanical harvesters are fueled up, and the harvest interns have reported for duty. It's the beginning of a tough two months for the interns, who are rewarded with valuable winery experience for long hours of grueling manual labor. Some wineries do their best to lighten the mood during all that hard work, and at Napa's Round Pond, that includes allowing the intern team to select a theme each vintage, which can include naming the tanks, costume parties and feats of strength. In past vintages the Round Pond squad has celebrated the great philosophers (2007), Snow White and the Seven Dwarfs ('08), '80s hair bands ('09), martial arts movie stars ('10) and, last year, James Bond villains and women.

The 2012 crew has elected to celebrate the Olympics, naming tanks for past and present female champions like the Williams sisters, the current gymnastics team, volleyballers Misty May-Treanor and Kerri Walsh and even 4th century chariot champion Princess Kyneska of Sparta.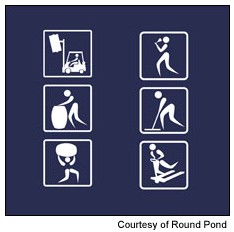 The Missy Franklin tank received the first Sauvignon Blanc of the vintage, on Sept. 5. What we're really interested in, however, are Round Pond's "harvest olympics."

Winemaker Brian Brown shared this year's T-shirt design with us, featuring six events: bin dumping, punch downs, barrel throwing, tasting, cleaning and pallet-jack racing. Unfiltered is only good at one of those events.