by Patricia M. Roth | February 14, 2013 | 7:59 AM

I couldn't resist their wild streak. I liked their fun website and original approach to marketing. After reading this story on SF Gate, I admired their chutszpah. And since Valentine's Day is all about the bubbles, we're going to taste Naked Rebel Winery's Pink Panda sparkling wine on February 14 here in the office at WBM. Plus, most of us around here do not wear shoes when we don't have to.
Pink Panda comes in a clear bottle so you can see what a gorgeous color it is. The dancing panda label is outlined in glow-in-the-dark ink, and the winery makes a call to "Help Save Second Base" on its website to publicize that they donate part of Pink Panda's proceeds to Susan G. Komen for The Cure – showing you don't have to be a millionaire to support a good cause.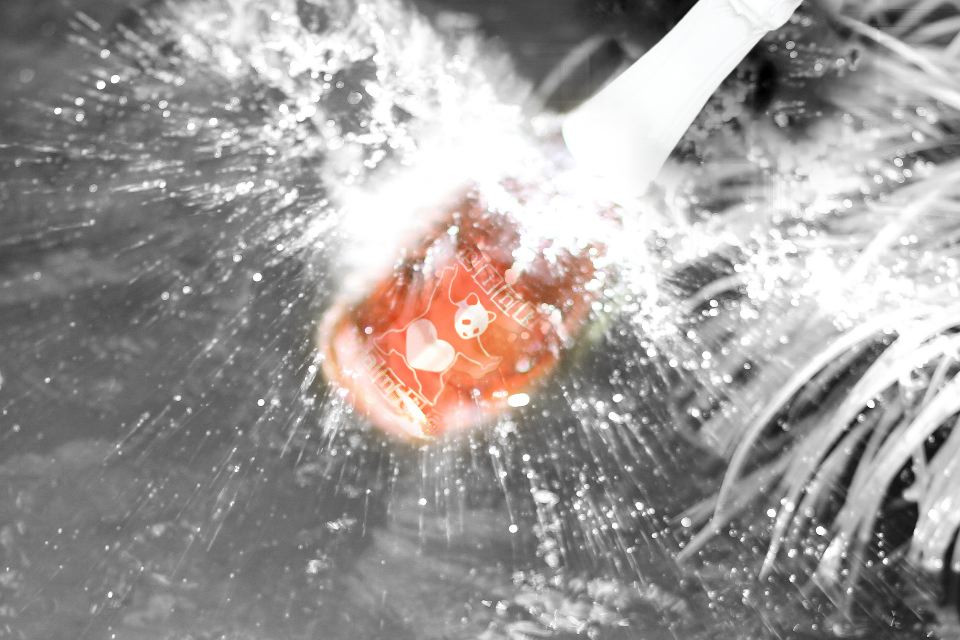 Here's how Naked Rebel describes Pink Panda:
"We pretty much had to make this. Doug and I saw how other winemakers were botching up Pink Champagnes. It is Pink, it is supposed to be fruity! This is an Alexander Valley pinot that is bursting with raspberry and strawberry flavors. It is a fun Champagne that can either be drank straight from the bottle or sprayed in a dance party. Every bottle we make is printed with glow in the dark ink, so you and your loved one can find them in the dark. You're welcome."
San Mateo, CA-based Naked Rebel Winery has a story to tell, beginning with two brothers A.J. and Chip Forsythe making wine in college and leading to Chip's more recent success selling off the branded bottle Sexual Chocolate from SLO Down Wines. After that, Chip received funding from business incubator/accelerator Boost to kickstart his next brand. Ryan Ornelas of Naked Rebel Winery explains:
"Sexual Chocolate received numerous ratings, reviews and was featured at SF MOMA for the bottle design. Now with Chip's new brands, he has created the first glow-in-the dark label! After three months of mentoring from Boost.VC and brand building, we are now literally hitting the streets knocking on people's doors to introduce them to Naked Rebel and Pink Panda as we don't have extra marketing dollars."
Naked Rebel Winery produces two products: Pink Panda and Naked Rebel. Pink Panda was made with Alexander Valley Pinot Noir grapes using the Charmat method and was bottled at Weibel. The Naked Rebel blends Oakville Napa Cab from the Smoke and Mirrors Vineyard with Amador County Syrah. One last point: If you sign up for the winery's newsletter, they propose: "We might just send you some wine or a pony."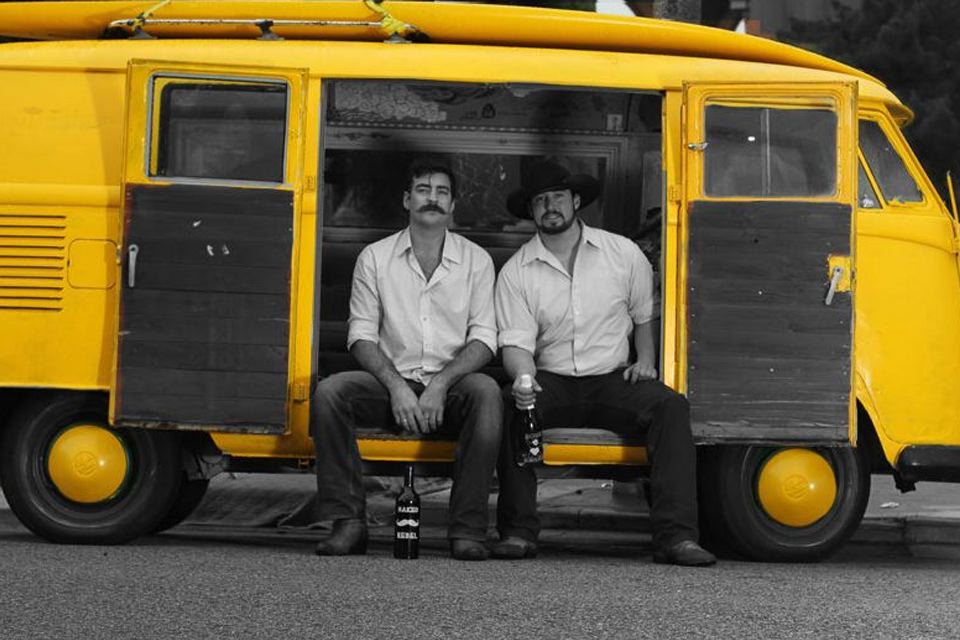 Pictured (l-r): Naked Rebel Winery winemaker Chip Forsythe and VP of Sales Doug Burkett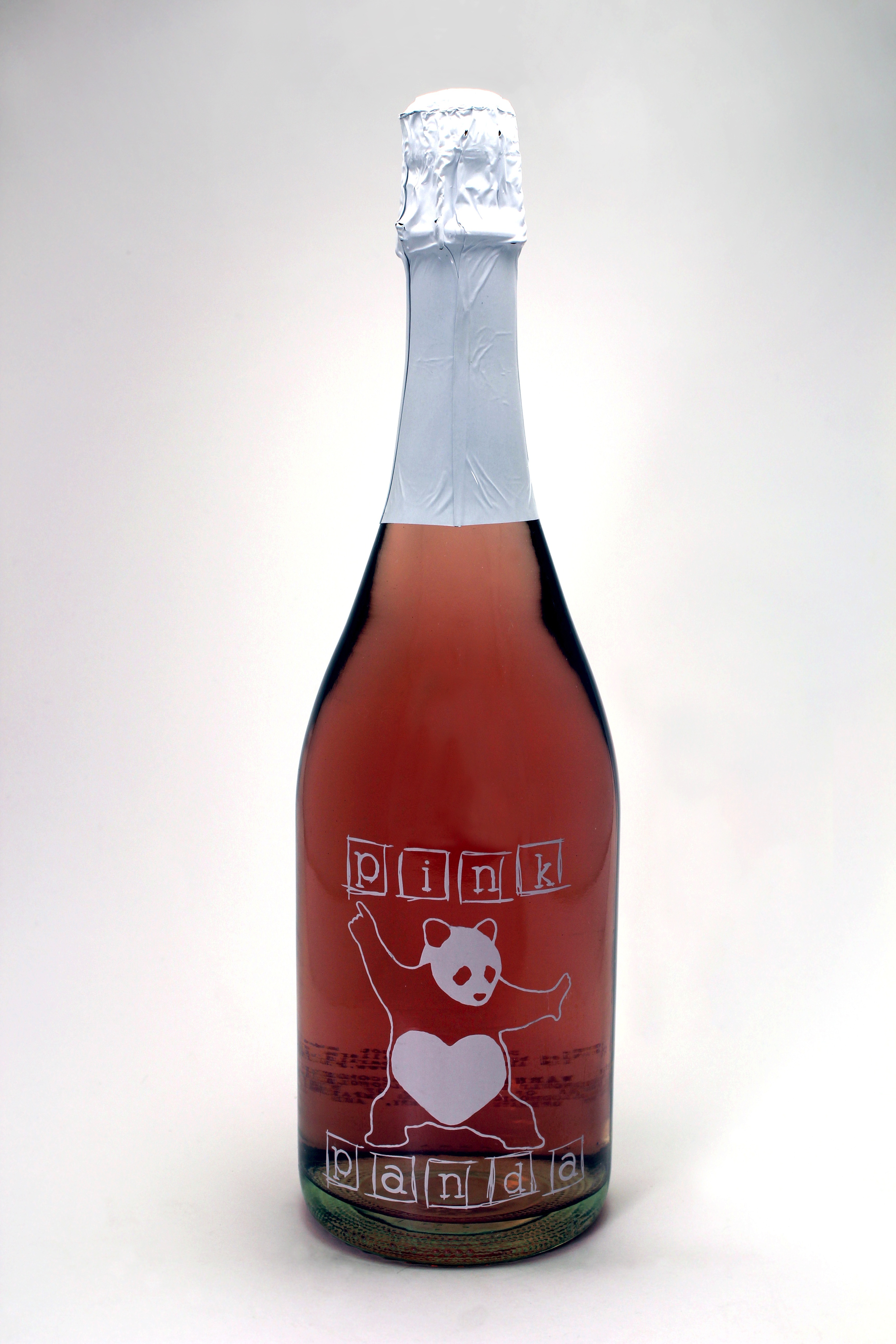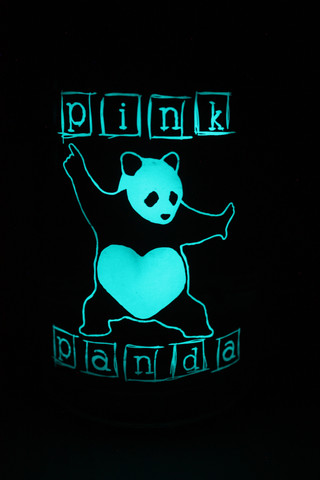 From the back label: "O% French grown. Sorry we're not sorry. GO AMERICA"
Then there is this: Pop it like Pink Champagne.
And below: