by Patricia M. Roth | February 13, 2013 | 12:30 PM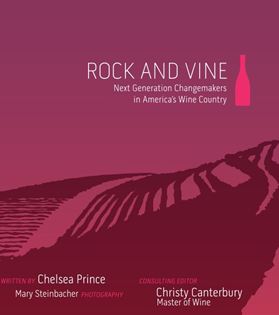 Read about Chelsea Print & Publishing's Rock and Vine launch party celebrating "the lives and innovations of next generation changemakers in California's wine country" to be held:
Wednesday, February 13, from 6 to 9 p.m.
Ian Ross Gallery
466 Brannan Street, San Francisco, CA 94107
Part of the book's proceeds will benefit Wine to Water, a non-profit organization focused on providing clean water to people in need around the world.

Sponsors:
Ceja Vineyards
BNA Wine Group
Envolve Winery - Pouring Envolve Sonoma Mountain Rosé
Featuring:
Hundred Acre & Dark Matter, Angelina Mondavi
Turley Wine Cellars, Christina Turley
Far Niente, Nicole Marchesi
Envolve Winery, Mike Benziger, Danny Fay and Ben Flajnik
Free Flow Wines
The publishers tell us about the book:
In the 70s and 80s, winemaking started to become a legitimate profession in California. Winemakers, particularly in Northern California, showed the might of Napa and Sonoma wines, made from its rocky and diverse soils. In the 90s, American wine became more extravagent and winemakers became icons. Now, the children and grandchildren of those early winemakers have matured and are crafting their own convivial brands with less pomp and better circumstances. Through 11 stories, author Chelsea Prince and photographer Mary Steinbacher introduce talented wine industry trailblazers who are primed to perpetuate and evolve the legacy of Napa and Sonoma.