Nicole Marino joins V. Sattui Winery as Social Media Marketing Manager.
In announcing her arrival, President Tom Davies explained, "Nicole will direct all of our blogging, Tweeting, Facebook interactions and other communications with our customers through these channels. Since we hosted Gary Vaynerchuk at the winery this past fall and have started to implement many of his ideas, we've seen our business grow," he added. The winery is celebrating its 125 anniversary in 2010 and Marino will also play a role in communicating that point of difference to the winery's customers.
Marino was born in Newton, Massachusetts, and grew up in Norwood, Massachusetts. She graduated from Curry College and spent the first years of her career in photography and marketing, most recently working for Joanne Sanders, California State Senator, in Napa and Castello Di Amorosa in Calistoga. She also works as a freelance photographer and has had her work published in a number of local and national print and online publications including Vogue Magazine. She has photographed for Schramsberg, Artesa, Nickel & Nickel, and The French Laundry.
"I am thrilled to be here at V. Sattui and look forward to being the face that represents the winery. My goal is to connect with our customers, bringing them up to the minute information that goes on at the winery, through Tweeting and Facebook. Already our Facebook page has grown so rapidly in size, exceeding 1,399 friends. A Fan page has now been created to accommodate the 2,745 fans. It will be very exciting to see where we are in a year," she explains.
For more information, visit www.vsattui.com.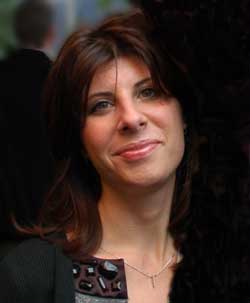 Copyright© 1994-2014 by Wine Communications Group. All Rights Reserved. Copyright protection extends to all written material, graphics, backgrounds and layouts. None of this material may be reproduced for any reason without written permission of the Publisher. Wine Business Insider, Wine Business Monthly, Grower & Cellar News and Wine Market News are all trademarks of Wine Communications Group and will be protected to the fullest extent of the law.