Effective July 1, 2013, a 10th change of generation will take place at glass manufacturer Riedel: Georg J. Riedel will hand over management of Riedel Crystal and its worldwide subsidiaries to his son Maximilian J. Riedel, the 11th generation family member to lead the heritage crystal house.
Father and son have agreed that now is the time to transfer the business to the next generation. Georg J. Riedel, who joined the company in 1973, changed the fine wine drinking culture through his work with leading wine visionaries, including Robert Mondavi, Marcel Guigal, Angelo Gaja and others. Following his appointment to Chief Executive, he led the company to achieve great success, thanks to a keen economic prowess and commitment to innovative design.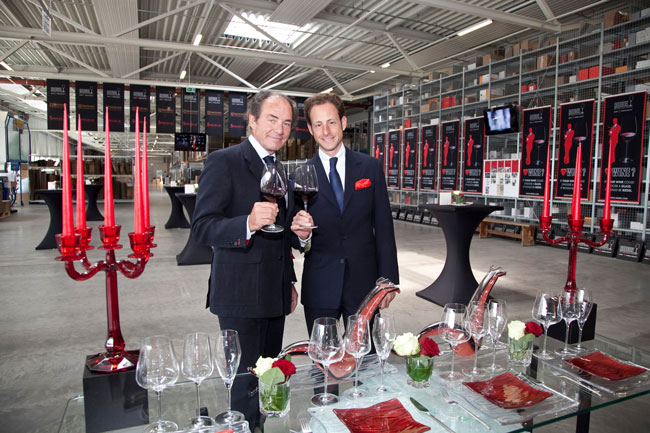 Georg J. Riedel acknowledges that "As owner, I will remain associated with the company; I am proud of my son, who has expanded Riedel's North American operations with exceptional success, significantly contributing to the company's growth through his extraordinary talent and creativity." He further reveals that "My daughter Laetizia Riedel-Rothlisberger will assist her brother in her capacity as corporate lawyer and brand ambassador."
Of his new position as President, Maximilian J. Riedel says, "I'm proud to follow in the footsteps of my father and build upon his successes. My vision is to strengthen the core European market, to expand our China subsidiary and to open new markets in Latin America within the next three years."
For more information on Riedel Crystal, please visit the all-new www.riedel.com.
Copyright© 1994-2014 by Wine Communications Group. All Rights Reserved. Copyright protection extends to all written material, graphics, backgrounds and layouts. None of this material may be reproduced for any reason without written permission of the Publisher. Wine Business Insider, Wine Business Monthly, Grower & Cellar News and Wine Market News are all trademarks of Wine Communications Group and will be protected to the fullest extent of the law.