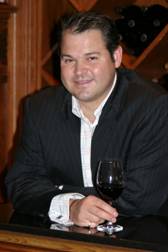 Matt Lane has been appointed Vice President, Peter Lehmann Wines Americas for Peter Lehmann, the iconic winery from Australia's Barossa Valley.
Lane, most recently with Treasury Wine Estates as the America's Sales Director for the luxury Heirloom Wine Group, will be based in Napa at The Hess Collection Winery. Peter Lehmann is a member of Hess Family Wine Estates.
As Vice President for Peter Lehmann, Lane will undertake extensive wine education programs that raise the awareness, understanding and appreciation of the Peter Lehmann wines portfolio among distributor and retail partners in Canada, the United States and the Americas, including the notable luxury category wines such as Stonewell, Mentor and 8 Songs. Lane will work closely and coordinate with the sales and marketing teams at The Hess Collection, which serves as importer for Peter Lehmann. He reports to Jeff Bond, Chief Executive Officer of Peter Lehmann.
Lane, a native Australian, relocated to the United States a decade ago after working for Penfolds as Head Sommelier and senior wine educator, serving as the Brand Ambassador for Penfolds in the Americas region for seven years. Earlier, he served as a sommelier with Hyatt International and at several prestigious restaurants in Australia.
He was named South Australian Sommelier of the Year in 2001, and also won the exclusive international Vin de Champagne award for South Australia two times. He has served as a guest lecturer at the University of Adelaide, and also taught wine classes at Johnson & Wales culinary school, as well as at Harvard and Stanford Universities. He is an accredited professional wine judge and holds numerous awards of distinction, including from WSET, the Wine and Spirits Education Trust of London, and certification from the Court of Master Sommeliers, USA chapter.
Copyright© 1994-2014 by Wine Communications Group. All Rights Reserved. Copyright protection extends to all written material, graphics, backgrounds and layouts. None of this material may be reproduced for any reason without written permission of the Publisher. Wine Business Insider, Wine Business Monthly, Grower & Cellar News and Wine Market News are all trademarks of Wine Communications Group and will be protected to the fullest extent of the law.