Brutocao and Bliss Family Vineyards, Hopland, CA is proud to announce the addition of Aaron Niderost as General Manager. Niderost will handle the daily operational needs of the organization and comes to Brutocao/Bliss with an impressive resumé that includes experience at Brown-Forman wines and Geyser Peak Winery along with 17 years overall management experience in operations, finance, process improvement, sustainability, sales and distribution. Niderost is a graduate of the University of California, Irvine with a B.A. and holds M.A. and M.B.A. degrees as well. His family has been in the Hopland area for 100 years. On hiring Niderost, CEO Steven Brutocao commented: "My brothers and I are thrilled to have Aaron join the Brutocao family. He adds immediate value to our team. We are poised to build on the success of our brands and are committed to making a lasting investment in the future of the wines and the vineyards. His experience and leadership helps us continue to focus on our growth."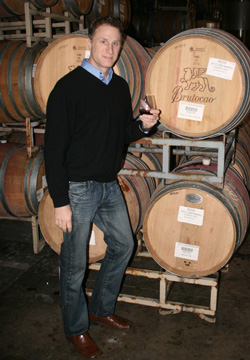 About Brutocao and Bliss Family Vineyards:
Brutocao Family Vineyards' roots go back three generations to Venice, Italy. When the Brutocao family came to the New World and married into the Bliss family of farmers, it was only natural that they would combine their passions and become grape growers and winemakers. Today, the family still blends their Italian heritage with their rural agricultural lifestyle to make some of California's finest wines. After growing grapes since the 1940's, the Brutocao family released their first wine with the 1980 vintage. Today they produce over 30 wines from 15 varietals from fruit grown on their 500+ acres of estate vineyards in Southern Mendocino County and Anderson Valley. Brutocao and Bliss Family Vineyards wines include Zinfandel, Cabernet Sauvignon, Merlot, Pinot Noir, Chardonnay and Sauvignon Blanc as well as unique Italian varietals including Primitivo, Barbera, Sangiovese, Dolcetto and the proprietary Quadriga, a blend of all four of their Italian varietals. Brutocao and Bliss operate tasting rooms at the Hopland Schoolhouse Plaza, Philo and Sonoma. The Hopland plaza offers private vineyard weddings, hospitality, events and conference facilities and is home to six Olympic sized bocce courts. Guests can enjoy a glass of wine and play bocce daily free of charge or join the Brutocao Spring or Summer Bocce League.
For additional information, visit www.brutocaocellars.com and www.blissvineyard.com
Copyright© 1994-2014 by Wine Communications Group. All Rights Reserved. Copyright protection extends to all written material, graphics, backgrounds and layouts. None of this material may be reproduced for any reason without written permission of the Publisher. Wine Business Insider, Wine Business Monthly, Grower & Cellar News and Wine Market News are all trademarks of Wine Communications Group and will be protected to the fullest extent of the law.