Results Partners LLC, Oregon's largest vineyard development and management company headquartered in McMinnville, Oregon has hired Alex Cabrera as Operations Manager.
"Alex's diverse varietal, regional, and cultural experience gained in both Southern Oregon and South America, coupled with his strong managerial credentials, will further strengthen an already broad and experienced management team at Results Partners" said President of Results Partners, Matt Novak.
Prior to joining Results Partners Alex was most recently the Vineyard Manager at Abacela, the premier producer of New World Tempranillo located in Roseburg, Oregon. He oversaw the management and continued development of Abacela's estate vineyard that totals over 76 acres and contains varied soil types, many warm climate varietals, and a myriad of microclimates.
Alex is a graduate of Oregon State University with a degree in Horticulture and the Viticulture and Enology Option. He had his first viticulture experience working at his extended family's brandy business in Peru, doing back-breaking work with pergola trellised grapes. Originally a student of biochemistry and biophysics program at OSU, Alex decided to switch to the Viticulture and Enology program to pursue the science and art of grape growing and wine making.
Alex will be working in conjunction with Matt Novak, Daniel Fey, Evan Bellingar, Debra O'Dea, and the rest of the RP team in managing RP's vineyards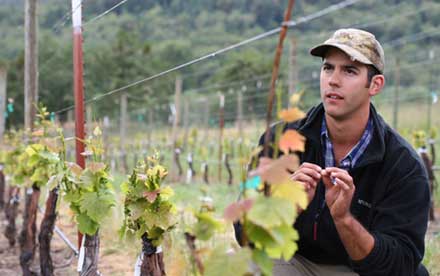 Results Partners, a wholly-owned subsidiary of OVS (Oregon Vineyard Supply Co. also of McMinnville) currently manages about 1000 acres of vineyard in the northern Willamette Valley. OVS offers everything from specialized equipment to trellis supplies and agronomic services.
Copyright© 1994-2014 by Wine Communications Group. All Rights Reserved. Copyright protection extends to all written material, graphics, backgrounds and layouts. None of this material may be reproduced for any reason without written permission of the Publisher. Wine Business Insider, Wine Business Monthly, Grower & Cellar News and Wine Market News are all trademarks of Wine Communications Group and will be protected to the fullest extent of the law.