Haak Vineyards & Winery in Santa Fe, Texas recently hired Kyle Welch as its new assistant winemaker. He will work alongside Raymond Haak.
Welch, who previously worked at Ste. Michelle Wine Estates in Prosser, WA, was also employed as a Reactor Maintenance Technician for Sonic Systems International in Hanford, WA, and received a bachelor of science in viticulture and enology from Washington State.
"We're very happy to welcome Kyle to our growing winery staff," said Raymond Haak. "He brings great knowledge of wines to the table, especially Pacific Northwest varietals, and we know our own wines will reflect that."
Making the move from Washington to Texas was a welcome challenge, but climate change was the biggest adjustment for Welch.
"Wine grapes in Texas are historically low in acid because the vineyards don't cool off at night," said Welch. "The lack of acid production yields unbalanced fruit, which leads to 'flabby' wines that are less stable in terms of aging. As winemakers, we combat this problem with acid additions and blending in the winery."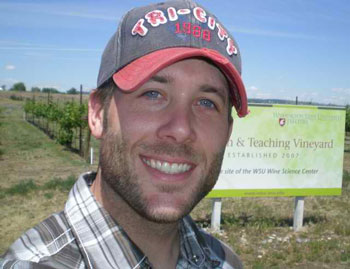 Copyright© 1994-2014 by Wine Communications Group. All Rights Reserved. Copyright protection extends to all written material, graphics, backgrounds and layouts. None of this material may be reproduced for any reason without written permission of the Publisher. Wine Business Insider, Wine Business Monthly, Grower & Cellar News and Wine Market News are all trademarks of Wine Communications Group and will be protected to the fullest extent of the law.