Fort Berens Estate Winery Ltd is pleased to announce the appointment of Bill Pierson of the Vintage Consulting Group as their new winemaker. Bill will oversee all winemaking operations with consulting advice from veteran winemaker Tom DiBello. Situated in "Canada's Hot Spot" of Lillooet, one of the last uncharted wine regions in the province, Fort Berens is the first winery in the area.
Proprietors Rolf de Bruin & Heleen Pannekoek are excited to have Bill Pierson join the Fort Berens team. "Bill has a great deal of experience working for different wineries in the Okanagan. We're confident he'll expand on our initial successes to craft elegant, food friendly wines in the approachable style we've begun. We believe wines are made in the vineyard first and together we're going to discover and share the real terroir in Lillooet."
"Rolf and Heleen are off to an excellent start with their new winery and I'm delighted to work with them on realizing the full potential of the Lillooet region for grape growing. The area has some of the highest heat units in BC and with the new vineyards planted there, it is proving itself for producing vinifera grape cultivation," said Bill Pierson, winemaker, Fort Berens Estate Winery.
An up-and-coming winemaker, Bill formerly was the assistant winemaker at Cedar Creek, Laughing Stock and Township 7 Vineyards and Winery in the Okanagan and mentored under leading winemakers in the Valley including Tom DiBello and Michael Bartier. Originally from Montreal, Bill has an engineering background and moved to the Okanagan 2000 where he completed the Viticulture and Wine Studies programs at Okanagan College.
Bill will oversee the upcoming 2011 harvest, which will be the winery's first vintage produced with estate grown grapes. Fort Berens expects a harvest of approximately 35 tons this year, including Pinot Gris, Chardonnay, Riesling, Merlot, Cabernet Franc and Pinot Noir. The 2011 vintage will be made partially made on site in Fort Berens' rustic winery as well as at a winery in Naramata. Expansion planned further in the future will enable the winery to craft all wine onsite.
Already achieving early success, the winery has crafted many medal-winning wines from its small lot production. In addition to several silver and bronze medals, most recently, Fort Berens' Meritage 2008 won a gold medal at the 2011 New World International Wine Competition, beating all other Canadian entries and sharing the gold medal with five well-established Californian wineries.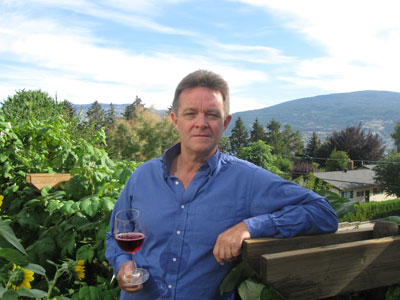 ABOUT FORT BERENS
Fort Berens Estate Winery is located in historic Lillooet, at Mile 0 of the Cariboo Trail and rallying point for the Cariboo Gold Rush of 1858. One hundred and fifty years ago the Hudson's Bay Company began construction of Fort Berens on a sage-brush covered bench on the east side of the Fraser River, at Lillooet, British Columbia. This trading fort was to serve the thousands of prospectors who flocked to the Lillooet region in search of gold. The fort was never completed and now the new Fort Berens winery will grace the site, offering tours of the vineyard, superb, distinct, hand-crafted wines and a taste of history.
Come explore Fort Berens Estate Winery, Lillooet's first winery and vineyard. In keeping with the pioneering spirit of the Gold Rush era, Fort Berens creates a new and unique wine experience in British Columbia. www.fortberens.ca
Copyright© 1994-2014 by Wine Communications Group. All Rights Reserved. Copyright protection extends to all written material, graphics, backgrounds and layouts. None of this material may be reproduced for any reason without written permission of the Publisher. Wine Business Insider, Wine Business Monthly, Grower & Cellar News and Wine Market News are all trademarks of Wine Communications Group and will be protected to the fullest extent of the law.