Jim Buckley, has been appointed TGIC Importers, Inc.'s new Chief Financial Officer (CFO).

This represents an entirely new position within TGIC which was recently awarded Wine Enthusiast's Importer of the Year award. The new post was created to support TGIC's continued growth. Jim reports directly to CEO/President, Alex Guarachi.

"I am absolutely thrilled to be joining the TGIC team," says Jim. "TGIC's continued focus on delivering a portfolio of world-class wines at the best price points has allowed the company to increase in both size and scope. The challenges presented by TGIC's strategic growth environment make the job both fun and rewarding."

Jim's responsibilities include planning, implementing, managing and controlling all of the financial-related activities of the companies TGIC, Titan and Triumph – all owned and operated by Alex Guarachi.

With fourteen years of executive level finance experience in the wine industry ranging from Finance Director at Robert Mondavi to CFO at Scott Street Portfolio, Jim has a proven track record of exceptional strategic planning, identifying opportunities and implementing change. He was also Director of Worldwide Operations during his time with Robert Mondavi and has developed expertise in all strategic aspects of the wine and spirits business including sales and operations, team building, marketing, mergers and acquisitions, internal systems and controls, supply chain and cost management.

Jim is a graduate of the University of California – Santa Barbara with a BA – Business Economics, Accounting Emphasis.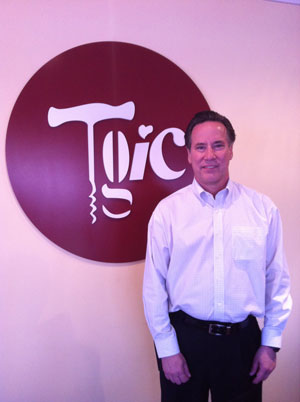 Copyright© 1994-2013 by Wine Communications Group. All Rights Reserved. Copyright protection extends to all written material, graphics, backgrounds and layouts. None of this material may be reproduced for any reason without written permission of the Publisher. Wine Business Insider, Wine Business Monthly, Grower & Cellar News and Wine Market News are all trademarks of Wine Communications Group and will be protected to the fullest extent of the law.