Big Basin Vineyards, the pre-eminent producer of cool climate Syrah's from the Santa Cruz Mountains and the Gabilan Mountains (Monterey), as well as top-rated Pinot Noirs from the Santa Cruz Mountains, has hired Lindsey Otis as Assistant Winemaker.
"We are excited to have Lindsey join our winemaking team," said Bradley Brown, winemaker & proprietor for Big Basin Vineyards, "She brings exceptional attention to detail and quality control from grape reception all the way to bottle to help us ensure our customers receive wines that reveal every nuance of the fruit that went into them."
Originally from Santa Cruz, Otis graduated from the University of California at Davis with a degree in Viticulture and Enology (BS w/ Honors, 2004). She has experience with cool climate Pinot Noir from her work at Williams-Seylem, and was attracted to the opportunity to work with both Pinot and Syrah from the same appellations. She noted that the chance to make both high quality Syrah and Pinot from a winery that produced primarily estate wines, was extremely attractive, and wanted to work with a winery motivated to show the balanced expression of fruit/place in its product.
Otis also cited her appreciation for the commitment to sustainably and organically farmed vineyards at Big Basin Vineyards, located on Memory Lane in the Santa Cruz Mountains, just minutes from Big Basin State Park, as well as their minimal intervention winemaking. Another key attraction was the winery's decision to eschew the use of foils in packaging, saving countless resources.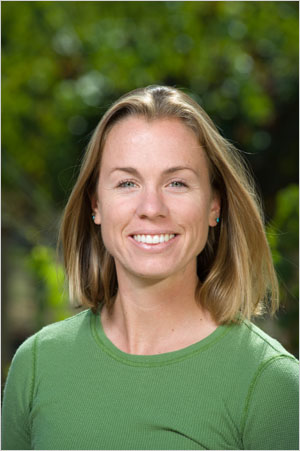 Big Basin Vineyards has a tasting room at 14598 Big Basin Way in Saratoga, open Thursday thru Monday, 11am til 5pm, with extended hours on Friday and Saturday til 7pm. www.bigbasinvineyards.com
Big Basin Vineyards will be featured at World of Pinot Noir, March 5, 2011, at the Cliffs Resort at Shell Beach, and at Pinot Paradise, Villa Ragusa in Campbell, March 27, 2011.
Copyright© 1994-2014 by Wine Communications Group. All Rights Reserved. Copyright protection extends to all written material, graphics, backgrounds and layouts. None of this material may be reproduced for any reason without written permission of the Publisher. Wine Business Insider, Wine Business Monthly, Grower & Cellar News and Wine Market News are all trademarks of Wine Communications Group and will be protected to the fullest extent of the law.