Guglielmo Winery has hired Ted Catanesi to manage direct sales. In this role, he will extend the hospitality and personal service directly to the trade, including wine and bottle shops, restaurants and wine bars. Catanesi had most recently been with Classic Wines for 25 years.
Emilio Guglielmo Winery, a 3rd generation family owned and operated winery in the Santa Clara Valley of California, is returning to the sales model its founder, Emilio, established 86 years ago. Parting ways with its long-time distributor, Frank-Lin, the company seeks to re-establish personal relationships with its trade clientele throughout the Bay Area.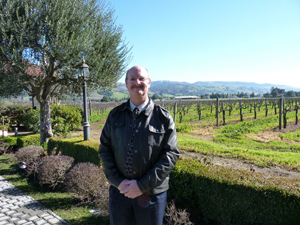 About Guglielmo Winery
Located in Morgan Hill, CA, Guglielmo Winery has practiced the fine art of winemaking for three generations. Established by family patriarch, Emilio Guglielmo, the Guglielmo (Gool–yell–mo) family has produced wines in the Santa Clara Valley since 1925. Today, third generation brothers, George, Gene and Gary Guglielmo, offer a family of award-winning Private Reserve varietals, the TRE value line, Emile's Heritage Red and White, as well as sparkling and dessert wines. Visit the Tasting Room & Gift Shop daily, from 10am to 5pm (except major holidays). Located on the grounds is the Villa Emile Event Center, the perfect setting for weddings and corporate events. www.guglielmowinery.com
Copyright© 1994-2014 by Wine Communications Group. All Rights Reserved. Copyright protection extends to all written material, graphics, backgrounds and layouts. None of this material may be reproduced for any reason without written permission of the Publisher. Wine Business Insider, Wine Business Monthly, Grower & Cellar News and Wine Market News are all trademarks of Wine Communications Group and will be protected to the fullest extent of the law.