Winemaker and proprietor, Bradley Brown announced the opening of Big Basin Vineyards new tasting room in downtown Saratoga, CA, and the appointment of Michele Eschler as Tasting Room manager. The tasting room officially opened on August 19, 2010.
Eschler, who most recently worked for Qupe Winery in Los Olivos , CA, has previous wine industry experience from Clarets Fine & Rare Wines LLC, of Santa Barbara, CA. She studied International Relations at Sonoma State University in Rohnert Park, CA, and majored in Asian Studies at University of California, Santa Barbara, CA. She did post graduate work at Franklin College in Lugano, Switzerland.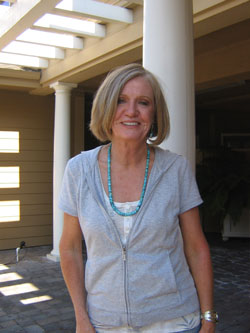 Big Basin Vineyards Tasting Room is at 14598 Big Basin Way, Suite B, Saratoga, CA 95070. 408-564-7346. It is open every Thursday thru Monday, 11am til 5pm, and until 7pm on Friday and Saturday thru September.
About Big Basin Vineyards
Big Basin Vineyards is named for nearby Big Basin Redwoods State Park, which lies 1 mile from the winery. It is the only vineyard in the Santa Cruz Mountains planted exclusively to Rhone varietals, including Syrah, Grenache and Roussanne. International wine critics have consistently acknowledged the winery's achievements including Wine & Spirits, which named Big Basin one of the top 100 wineries in 2008, Robert Parker Jr., who enthusiastically noted the "Impressive Syrahs," and Wine Spectator Magazine, which cited Big Basin as one of ten "Promising new producers" of Syrah in California. With the 2006 harvest, proprietor and winemaker Bradley Brown began producing single vineyard Santa Cruz Mountains Pinot Noirs, again, to critical acclaim.
Copyright© 1994-2014 by Wine Communications Group. All Rights Reserved. Copyright protection extends to all written material, graphics, backgrounds and layouts. None of this material may be reproduced for any reason without written permission of the Publisher. Wine Business Insider, Wine Business Monthly, Grower & Cellar News and Wine Market News are all trademarks of Wine Communications Group and will be protected to the fullest extent of the law.