Grant Raeside, formerly the Executive Director of the Sonoma Valley Vintner's and Growers Alliance (SVVGA), has announced a new focus for his company, Event Marketing Works. Raeside brings his talents from a wide-ranging career in sales and marketing to provide a full-service firm working within the wine industry on marketing, promotions, public relations, wine sales and event production.
Event Marketing Works brings together professionals in all fields of marketing and communication to provide unique services necessary for success in today's economic environment. "Event Marketing Works utilizes team players who know their specific skill set and together we assist our clients to bring their business to new heights," said Raeside.
During his five-year tenure at the SVVGA, Raeside doubled membership, and tripled the annual revenue for new marketing and advertising programs. Programs and events Raeside helped establish include VinOlivo, Passport to Sonoma Valley, Taste of Sonoma Valley, Wine Basics 101, Sonoma Valley Wine Competition, Sommelier Stars, and the Tour de'Concierge as well as raising over $250,000 through an advertising co-op program for vintner members. He formed partnerships with Jazz +, Sonoma Valley International Film Festival, SF Magazine's Best of the Bay and the Charles Schwab Senior Tour Golf Championship. His ability to form a partnership with the Sonoma County Vintners to create Sonoma Wine Country Weekend brought the entire county together to produce one of the largest food and wine events in California.
Raeside's other experiences include working as an entrepreneur in the financial services industry and with the 1996 Olympics in Atlanta, directing a downtown Atlanta organization of 400 retailers, working with the Atlanta Convention and Visitors Bureau and with the Mayor's office as liaison with the international media. He has also has extensive knowledge of the not-for-profit industry working with organizations such as the American Heart Association, Muscular Dystrophy Association and Junior Achievement. More information about Event marketing Works can be found at the website, www.eventmarketingworks.com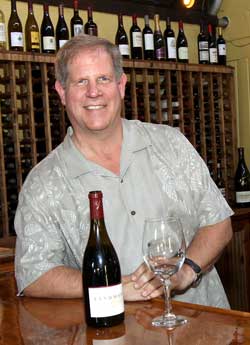 Copyright© 1994-2013 by Wine Communications Group. All Rights Reserved. Copyright protection extends to all written material, graphics, backgrounds and layouts. None of this material may be reproduced for any reason without written permission of the Publisher. Wine Business Insider, Wine Business Monthly, Grower & Cellar News and Wine Market News are all trademarks of Wine Communications Group and will be protected to the fullest extent of the law.