Jean-Pierre "J-P" Giovanni was named as the new president and CEO of Saverglass inc. overseeing all activities in North America. Other new members of the team are Kevin Goulding who takes over as Chief Financial Officer. Additionally, the company has added Melinda Elledge, a 20-year veteran of the wine industry most recently with Mercier Cooperage and Ramondin. Melinda joins Saverglass Inc. as Area Sales Manager in charge of various territories and customers in Napa, Canada and Mexico and complements the existing sales team made up of two area sales managers based in Napa, Sylvie Langlois and Petra Gillier, and one based in Ramsey, NJ, Doug Thomson.
The new team "is actively marketing the new ecoDesign line of lighter bottles introduced earlier this year by Saverglass to supply lighter environment-friendly glass packaging solutions with the same design excellence, glass quality and performance well appreciated by Saverglass customers," says the company
Saverglass, Inc. is a leading French manufacturer and decorator of premium glass packaging for the wine and spirits industry specializing in innovative design solutions.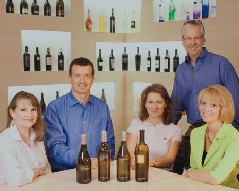 left to right: Melinda Elledge, J-P Giovanni, Sylvie Langlois, Kevin Goulding, Petra Gillier
Copyright© 1994-2013 by Wine Communications Group. All Rights Reserved. Copyright protection extends to all written material, graphics, backgrounds and layouts. None of this material may be reproduced for any reason without written permission of the Publisher. Wine Business Insider, Wine Business Monthly, Grower & Cellar News and Wine Market News are all trademarks of Wine Communications Group and will be protected to the fullest extent of the law.