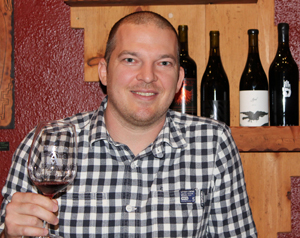 Arizona Stronghold Vineyards, Arizona State's largest winery, has promoted Justin Ove to the position of national sales manager at this Cottonwood-based company. Ove will manage sales of Arizona Stronghold Vineyard wines in 32 states, Canada and Australia. This entails working with current distributors and salespeople to increase brand awareness along with developing new markets. Ove will continue to be Stronghold's events coordinator for all tastings and festivals.
Ove started in a local vineyard in 2008 developing hands on working knowledge of the viticulture cycle. Afterwards, he became the events coordinator for both Page Springs Cellars and Vineyards and Arizona Stronghold Vineyards (local sister wineries), working with both brands as each company grew and evolved. In 2012, Ove became not only the events coordinator, but also the assistant national sales manager working solely for Arizona Stronghold Vineyards moving from Cornville to the Cottonwood office. There he continues to effectively grow the brand not only in Arizona but also in other states and internationally. Ove brings with him a great passion for wine, has an easy going personality, strong organizational and speaking skills and a desire to share his wine knowledge that will help drive Arizona Stronghold Vineyards to the forefront of the wine marketplace.
Copyright© 1994-2014 by Wine Communications Group. All Rights Reserved. Copyright protection extends to all written material, graphics, backgrounds and layouts. None of this material may be reproduced for any reason without written permission of the Publisher. Wine Business Insider, Wine Business Monthly, Grower & Cellar News and Wine Market News are all trademarks of Wine Communications Group and will be protected to the fullest extent of the law.