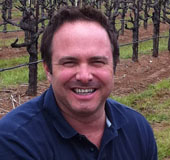 Morgan Zaninovich, general manager of Rutherford Wine Company, welcomed Donna Traversi as western regional sales manager and John Burke as intermountain regional sales manager.
Burke joined the company in July and has worked with Renwood, Michael David Winery and Allied Domecq. He is responsible for the Mountain West including Colorado, Arizona, New Mexico, Idaho, Montana, Wyoming, Oregon, Washington and New Mexico. Both positions report to Tom Stine, western division vice president.
Rutherford Wine Company (rutherfordwine.com) is located on the Napa Valley's Silverado Trail and produces a portfolio of award-winning wines: Rutherford Ranch Winery (Napa Valley), Scott Family Estate (Arroyo Seco), Round Hill (California), Predator Old Vine Zinfandel (Lodi), Lander-Jenkins (premium California), Rhiannon (California) and Silver Buckle (Lodi and Central Coast) wines and an extensive Private Label clientele.
Copyright© 1994-2014 by Wine Communications Group. All Rights Reserved. Copyright protection extends to all written material, graphics, backgrounds and layouts. None of this material may be reproduced for any reason without written permission of the Publisher. Wine Business Insider, Wine Business Monthly, Grower & Cellar News and Wine Market News are all trademarks of Wine Communications Group and will be protected to the fullest extent of the law.