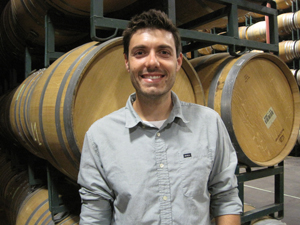 Fess Parker Winery, located on the Foxen Canyon Wine Trail of Santa Barbara Wine Country, has announced the appointment of David Baird as assistant winemaker.
Baird, who graduated from Cal Poly with a degree in agricultural business and a minor in wine and viticulture, will work under the guidance of head winemaker Blair Fox. As assistant winemaker, he will be tasked with managing the enology laboratory and cellar staff.
Previously, Baird enjoyed successful stints as cellarmaster at Justin Vineyards and Winery in Paso Robles. Baird first started his career in winemaking as an intern at both Edna Valley Vineyard and Halter Ranch Winery, both on California's Central Coast.
Of his new appointment, Baird says, "I am very excited to be working for such a well-known and reputable brand as Fess Parker. There is such a wonderful history of great wines, with things only improving in recent years. I look forward to continuing the positive momentum and creating great wines." Baird, who has never made wine in Santa Barbara Wine Country before says, "I am looking forward to working in a cooler AVA, especially one where such promising things are happening. The area is gaining notoriety for being among the top regions in the United States for Pinot Noir, Chardonnay and Rhone wine varieties."
Fess Parker Winery was founded in 1987 by actor Fess Parker (1924-2010), who was considered by many to be an American icon. His portrayal of frontiersmen Davy Crockett and Daniel Boone impacted millions of young viewers in the late 1950's and 60's. Today, the winery is family-owned and operated by the next generation of the Fess Parker family.
Copyright© 1994-2014 by Wine Communications Group. All Rights Reserved. Copyright protection extends to all written material, graphics, backgrounds and layouts. None of this material may be reproduced for any reason without written permission of the Publisher. Wine Business Insider, Wine Business Monthly, Grower & Cellar News and Wine Market News are all trademarks of Wine Communications Group and will be protected to the fullest extent of the law.