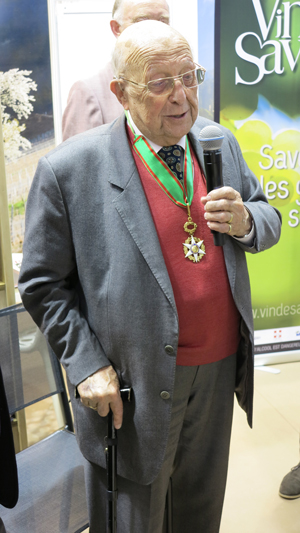 Famed ampelographer Pierre Galet received the Ministry of Agriculture' Award Commandeur de l'Ordre du Mérite Agricole on the June 16 opening day of Vinexpo in Bordeaux. On hand at the ceremony, hosted by winegrowers from the Rhone-Alpes and Savoie, to award him the cross was the mayor of Bordeaux Alain Juppé and former students, including his American translator Lucie Morton. The first copies of Galet's biography by Francois Morel (www.sangdelaterre.fr) were there for the subject, now 92, to autograph.
Galet is famous for introducing a system for identifying varieties based on the shape, contours and characteristics of the leaves of the vines, petioles, growing shoots, shoot tips, grape clusters, as well as the color, size, seed content and flavour of the grapes. The impact of his work has earned him the title of "father of modern ampelography". He started publishing within ampelography in the 1950s and his Ph.D. thesis was presented in 1967. He has also written popular science books on grape varieties.
Copyright© 1994-2014 by Wine Communications Group. All Rights Reserved. Copyright protection extends to all written material, graphics, backgrounds and layouts. None of this material may be reproduced for any reason without written permission of the Publisher. Wine Business Insider, Wine Business Monthly, Grower & Cellar News and Wine Market News are all trademarks of Wine Communications Group and will be protected to the fullest extent of the law.