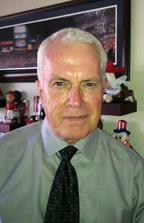 Merryvale Vineyards and Starmont Winery promoted Tom Reese to national sales manager. Reese will be directly responsible for sales operations for both the Starmont and Merryvale brands throughout the U.S.
Reese has been with Merryvale for over five years as national accounts manager, following five years with Clos du Val Winery as both a regional and national accounts manager. Prior to that, Reese worked with Caravelle Imports, Sebastiani Winery, and Young's Market Company to round out his extensive career in the wine industry. He comes into this role at an exciting time as Merryvale and Starmont are poised for strong growth in the wholesale channel.

"We are happy to have Tom in this expanded role as he brings a wealth of knowledge and experience in wholesale management to this position that he has acquired throughout his more than 30-year career," said Mark Evans, COO of Merryvale and Starmont.
About Merryvale Vineyards & Starmont Winery
Founded in 1983, Merryvale Vineyards is a family-owned Napa Valley winery dedicated to sustainable farming and winemaking. Merryvale is renowned for rich, powerful Cabernet Sauvignon and Chardonnay, and the iconic Bordeaux-style red blend Profile.
Starmont Winery, built in 2006, is a state-of-the-art, solar powered winery whose mission is to produce exceptional Napa Valley varietal wines from sustainably farmed vineyards.
Merryvale and Starmont are committed to protecting and preserving the environment through conservation, renewable energy and sustainable farming practices. Both wineries have received Napa Green Vineyard, Napa Green Winery and Bay Area Green Business certifications.

Copyright© 1994-2014 by Wine Communications Group. All Rights Reserved. Copyright protection extends to all written material, graphics, backgrounds and layouts. None of this material may be reproduced for any reason without written permission of the Publisher. Wine Business Insider, Wine Business Monthly, Grower & Cellar News and Wine Market News are all trademarks of Wine Communications Group and will be protected to the fullest extent of the law.