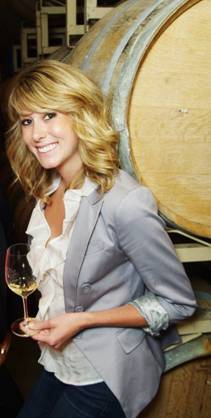 NVG is announced that Jamie Evans has been hired as industry relations and membership manager. Evanswill be at the 39th Annual Dinner Friday evening: please say hello and welcome!
Evans joins the Napa Valley Grapegrowers from Jackson Family Wines, where she served as marketing coordinator for the Classic Brands portfolio. Prior to Jackson Family Wines, Jamie worked in public relations for Parker Sanpei & Associates, a boutique firm located in San Luis Obispo. Born and raised in Truckee, California, Evans' roots extend back to South Dakota farm families. She developed a love for the wine industry while earning her degree in wine and viticulture with a concentration in wine business at Cal Poly, San Luis Obispo.
An avid traveler, she expanded her knowledge and explored different regions where she studied enology and viticulture at The University of Adelaide, Australia and at the Engineering School of Enology at Changins, Switzerland. Evans makes it a priority to take advantage of all Northern California has to offer, including running, yoga, skiing and wine tasting in the Napa Valley.
Evanscan be reached at jevans@napagrowers.org.
Copyright© 1994-2014 by Wine Communications Group. All Rights Reserved. Copyright protection extends to all written material, graphics, backgrounds and layouts. None of this material may be reproduced for any reason without written permission of the Publisher. Wine Business Insider, Wine Business Monthly, Grower & Cellar News and Wine Market News are all trademarks of Wine Communications Group and will be protected to the fullest extent of the law.