Steven Gerbac has been appointed Winemaker at Rusack Vineyards. Gerbac has been with the flagship Ballard Canyon winery for 10 years, beginning as a Production Assistant, moving on to Cellar Master, and working his way up to Assistant Winemaker.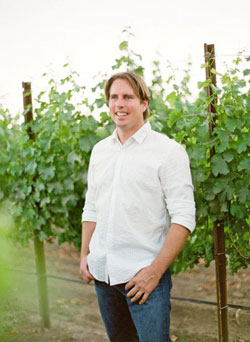 Gerbac traces his fascination with winemaking back to his 8th grade science project on malolactic fermentation. His interest in the field was further piqued through early friendships with iconic Santa Barbara winemaking families. While securing his Bachelor's Degree in History from the University of California at Santa Barbara, Gerbac worked for both Whitcraft Winery and Brander Vineyard prior to joining Rusack Vineyards in 2003.
At Rusack Vineyards, he will oversee a portfolio of estate-grown, Rhone-inspired wines; the production of Anacapa, the popular Bordeaux style blend, and a Burgundy-inspired selection of Chardonnays and Pinot Noirs from the Sta. Rita Hills and Santa Maria Valley appellations of Santa Barbara County. The Rusack wine program also includes an estate-grown Sangiovese, Sauvignon Blanc and several other notable offerings.
Additionally, Gerbac will be overseeing winemaking for the Santa Catalina Island Vineyards wine project; an elite collection of wines under the Rusack brand umbrella that are grown on Catalina Island.
To learn more about Rusack Vineyards and the Santa Catalina Island wines, please visit www.rusackvineyards.com
Copyright© 1994-2014 by Wine Communications Group. All Rights Reserved. Copyright protection extends to all written material, graphics, backgrounds and layouts. None of this material may be reproduced for any reason without written permission of the Publisher. Wine Business Insider, Wine Business Monthly, Grower & Cellar News and Wine Market News are all trademarks of Wine Communications Group and will be protected to the fullest extent of the law.