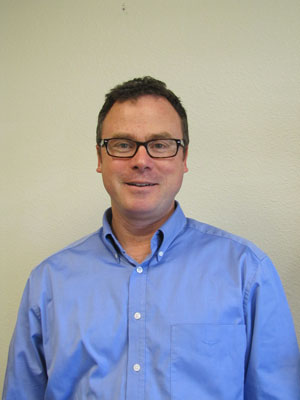 James Kennedy, Ph.D., will join wine industry icon and staunch advocate of wine education Jerry Lohr in a panel discussion regarding the importance and relevance of university viticulture and enology programs at WiVi Central Coast 2013, held in Paso Robles, March 19-20. The panel discussion will mark the first time department chairs and professors gather to discuss the latest research and the benefits of the university system for the wine industry. James Kennedy, Ph.D., professor and chair of the Department of Viticulture and Enology at California State University, Fresno; Jim Cooper, Ph.D., director of the Wine and Viticulture Program at Cal Polytechnic University, San Luis Obispo; and David Block, professor for the Department of Viticulture and Enology at University of California, Davis will sit on the panel.
James Kennedy is professor and chair of the Department of Viticulture and Enology, and director for the Viticulture and Enology Research Center at California State University, Fresno. He is most widely recognized for his research on improving the understanding of grape and wine tannin chemistry, with the primary goal being the improvement of red wine astringency quality. Kennedy has published extensively as an author or co-author in peer-reviewed journals, grape and wine industry publications, and proceedings. He has contributed numerous book chapters on grape and wine phenolic chemistry and has co-edited a book on the chemistry of red wine color.
Kennedy received his Ph.D. in Agricultural and Environmental Chemistry from the University of California, Davis, and has worked in the wine industry at Ridge Vineyards. After receiving his PhD, Kennedy conducted postdoctoral research on grape and wine phenolic chemistry at the University of Adelaide in South Australia before becoming a faculty member at Oregon State University where he was instrumental in developing the Enology and Viticulture option in their Food Science program.
In recognition of his research accomplishments, the American Chemical Society-Division of Agricultural and Food Chemistry awarded him with its Young Scientist Award in 2008. He serves as an associate editor for the American Journal of Enology and Viticulture and is a contributing editor for Practical Winery and Vineyard. Kennedy currently sits on the board of directors and is first-vice president for the American Society for Enology and Viticulture.
About WiVi Central Coast 2013
California's Central Coast is quickly becoming one of the world's most popular and celebrated wine regions. Since December 2009, 95 new wineries popped up in the Monterey, San Benito, San Luis Obispo, Santa Barbara and Santa Cruz counties. In 2012, nearly 7 million cases of wine were produced in the region. This burgeoning area faces many unique issues in its wine-growing and winemaking efforts, and WiVi Central Coast 2013, a new symposium and trade show hosted by Wine Business Monthly and Precision Ag Consulting, has been created to address those topics.
WiVi will be held March 19-20, 2013 at the Paso Robles Event Center in Paso Robles, California. It is the only trade show and symposium to address the issues facing the Central Coast wine industry, one of the fastest growing regions in the country. For more information, visit www.wivicentralcoast.com.
Copyright© 1994-2013 by Wine Communications Group. All Rights Reserved. Copyright protection extends to all written material, graphics, backgrounds and layouts. None of this material may be reproduced for any reason without written permission of the Publisher. Wine Business Insider, Wine Business Monthly, Grower & Cellar News and Wine Market News are all trademarks of Wine Communications Group and will be protected to the fullest extent of the law.