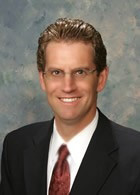 Dickenson Peatman & Fogarty announced that Scott Greenwood-Meinert joined the firm's Business Department in its Napa office. Prior to joining Dickenson Peatman & Fogarty, Mr. Greenwood-Meinert was with the Business Department of Gaw Van Male. Mr. Greenwood-Meinert has been in practice since 1996. "Scott brings the level of sophisticated expertise in business, real estate, land use and water law that DP&F has committed to the businesses and residents in Napa and Sonoma Counties," according to Greg Walsh, Co-Managing Director of Dickenson, Peatman & Fogarty. Walsh said, "We are really excited to have Scott join the firm."

Greenwood-Meinert's business practice focuses on complex business transactions, entity formation, loan workouts, entity restructuring, investing and related lending issues. Scott's real estate practice focuses on transactions, development, land use, environmental mitigation banks, commercial and agricultural leasing, energy-related leasing, financing, easements as well as a variety of regulatory matters. His extensive experience also includes water rights applications, transfers of water supplies and water rights, the representation of public and private water entities, and regulatory compliance.

"Scott Greenwood-Meinert has proven a bright and creative attorney with tremendous experience, a deep commitment to his clients and a team approach to identifying solutions" said Scott Gerien, Co-Managing Director of Dickenson, Peatman & Fogarty. "Scott's expertise extends the breadth of DP&F's services."

Copyright© 1994-2014 by Wine Communications Group. All Rights Reserved. Copyright protection extends to all written material, graphics, backgrounds and layouts. None of this material may be reproduced for any reason without written permission of the Publisher. Wine Business Insider, Wine Business Monthly, Grower & Cellar News and Wine Market News are all trademarks of Wine Communications Group and will be protected to the fullest extent of the law.