Flagstaff House restaurant in Boulder, Colo. has hired a new addition to their award-winning team, sommelier Melanie Kaman. Kaman has worked in top restaurants across the U.S., and is a Certified Specialist of Wine and a Certified Sommelier through the Court of Master Sommeliers.
"I couldn't be more thrilled," says Kaman. "Flagstaff House already has an outstanding reputation for wine; they have a 12,000-bottle cellar and have won the Wine Spectator Grand Award every year since 1983! Right now, I'm expanding their Burgundy, Bordeaux, and Italian selections, adding some excellent new rosés for summer, and have just finished creating a new cocktail program."
Kaman grew up in a family of wine collectors who loved to travel. She discovered a talent for all things culinary at the age of 15, and created her own catering company in high school. She graduated from Johnson & Wales in Providence, R.I. with an Associate Degree in Culinary Arts and a Bachelors in Food Service Management. Kaman then attended the InternationalWineCenter in New York City, and was certified as a Specialist of Wine.
Kaman went on to work at Spago and Postrio in Las Vegas as their assistant pastry chef, before moving back to Colorado and helping to open Mirepoix Restaurant as their Wine Director. She spent the next five years as the wine buyer and manager of a wine store before taking her new position at Flagstaff House.
"We're delighted to have new talent and a fresh perspective in Melanie," says Executive Chef-Partner Mark Monette. "She has an incredible palate; and wine is something that's very important to us, and to our guests."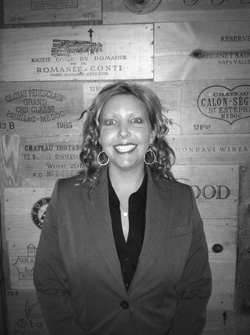 Copyright© 1994-2013 by Wine Communications Group. All Rights Reserved. Copyright protection extends to all written material, graphics, backgrounds and layouts. None of this material may be reproduced for any reason without written permission of the Publisher. Wine Business Insider, Wine Business Monthly, Grower & Cellar News and Wine Market News are all trademarks of Wine Communications Group and will be protected to the fullest extent of the law.